绿友服务
服务理念
SERVICE MOTTO
我们的服务理念:客户利益第一。服务创造价值。
有绿友为友 无后顾之忧。
通过全体员工在不同岗位上积极配合与协作,使我们每一位客户自始至终地享受满意周全的"售前、售中、售后"服务。
绿友集团非常注重员工的技能培训,特别是一线员工的服务技能培训,集团培训中心组织各种形式的培训班,每年有超过一千人次绿友集团员工参加培训。经过多年的不懈努力,绿友集团拥有了一支经过专业技能培训及长期实践积累的高素质服务队伍,保证了"绿友服务"的高品质。
>售前服务不仅仅是发资料和报价,更重要的是为客户做好参谋。销售人员要把更多的产品信息准确无误地传递给客户、把其他客户的经验和教训与客户分享,帮助客户根据实际需要选购到性价比满意的产品;而且,绿友集团还不定期地免费为客户和分销商举办新产品发布会,通报行业动态和新产品情况等。
>售中服务包括交机、试机、使用培训和购买过程中的演示讲解,确保客户买到放心的产品并正确使用。销售人员将重点向客户讲解和演示产品使用操作方法、注意事项及保养常识等,使客户面对产品不陌生,在将来的使用过程中又不掉以轻心,降低客户的使用和维修成本。
>售后服务就是技术指导、维修、零配件供应、技术培训和为客户提供培训,关键是拥有一支训练有素快速反应的专业化售后服务队伍。绿友集团服务人员不仅经过正规、全面的技能培训,而且在长期的实践中练就了高超的技艺。绿友集团服务人员对每一位客户、每一台机器都有明确的登记和跟进,做到永久为客户负责,为客户所购机器负责。绿友集团长期保持充足的零配件供应,提高产品使用效率和寿命,可以使客户无后顾之忧。
Our Service Motto is: Maximize Customers interest as the first choice. Service Generates Value.
Be Friends with Greenman, Be Free of Worries.
Through full scale coordination and cooperation of all staff at various post, every single Greenman customer enjoys to their fullest extent satisfactory service in three phases of pre,mid and after sales.
Greenman attaches paramount importance to skills training of all staff, especially those at front line of sales and service. The training center of the company organizes a wide variety of training sessions, more than a thousand per capita counts of trainings are provided to Greenman staff trainees each year. Years of skill building and long time of field practices enrich Greenman with a team of top quality service crew, the foundation of high quality "Greenman Service"
> Pre-Sales Service is far beyond product presentation through brochures and quotations. Its more important role is to become customer's consultants. Product info will need to flow to the customers with precision and accuracy, knowledge and lessons of previous customers will need to be dispensed for all customers, and customer's specific needs will have to be pinpointed to get the right performance price effective products. Greenman Group at different time intervals holds product briefings for customers and dealers on industry updates and new products release.
> Mid-sales Service regulates our practices in the process of delivery, test run, operation safety and demo, to make sure that customers do get the right products and operation steps. All sales staff are required to demonstrate key points of operation, maintenance tips, and safety cautions to customers for ease of use, cautions of use, and reduced cost of operation and maintenance.
> After-sales Service refers to general technological instructions, repairs, supply of service parts, technical training and operation check for customers, which requires a professional team of highly trained, responsive and effective service crews. Greenman Group is proud to have fully trained, professional and all capable service staff that master highly skillful repair knowledge through long time practices. Greenman Group established records and follow up procedures on every customer, every unit sold to customers which allow service provided to each unit for its life cycle. Greenman Group invested immensely in keeping long time sufficient parts supply to ensure enhanced productivity and life span of equipment in use, which frees customers of any after sales worries.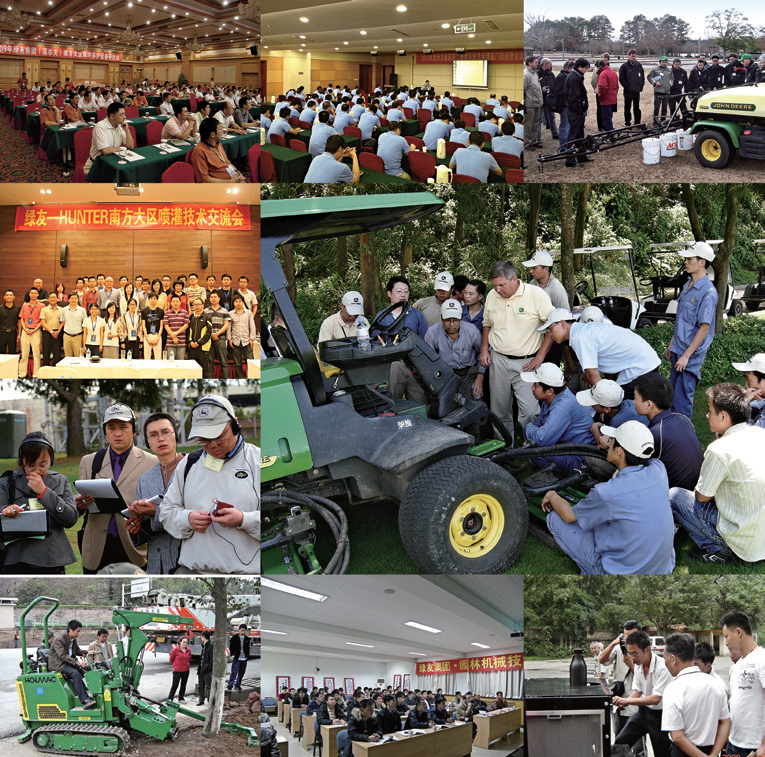 服务措施
SERVICE PRACTICES
绿友集团通过客户培训、交流会、客户回访、冬季免费保养等方式践行"主动服务"理念。
设备使用培训,让客户正确使用设备,了解设备的工作原理,使客户短时间内熟悉产品及性能。
设备保养培训,良好的保养是设备正常工作的基础,定期对客户进行设备保养培训,不断提升客户日常保养技能,延长设备的使用寿命。
客户定制培训,听取客户反馈,有针对性的组织客户交流会和满足客户特定需要的培训。
我们把想客户所想,急客户所急,满足客户需求,解决客户困难作为我们最重要的工作。让客户买得放心,用得舒心,服务省心。
Greenman Group practices "Active Service" through Customer Training, Exchange Conference, Customer Visits, Free Winter Storage Check Ups.
Equipment Operation Training is provided to familiarize customers with the units, allow them to understand units working principles, enable customers to have quick hands-on feel on products and performance.
Equipment Maintenance Training builds sound base for customers to correctly operate and use the units through regular onsite training. This is an ongoing process to sustain customer maintenance skills and extend units operating life in the field.
Customized Training provides trainings tailored to specific customer feedbacks.
At Greenman, we view customer needs, customer difficulties, and customer concerns as our own, so addressing such needs, difficulties and concerns is our most important job. Greenman service put customers at ease when it comes to purchase, use and service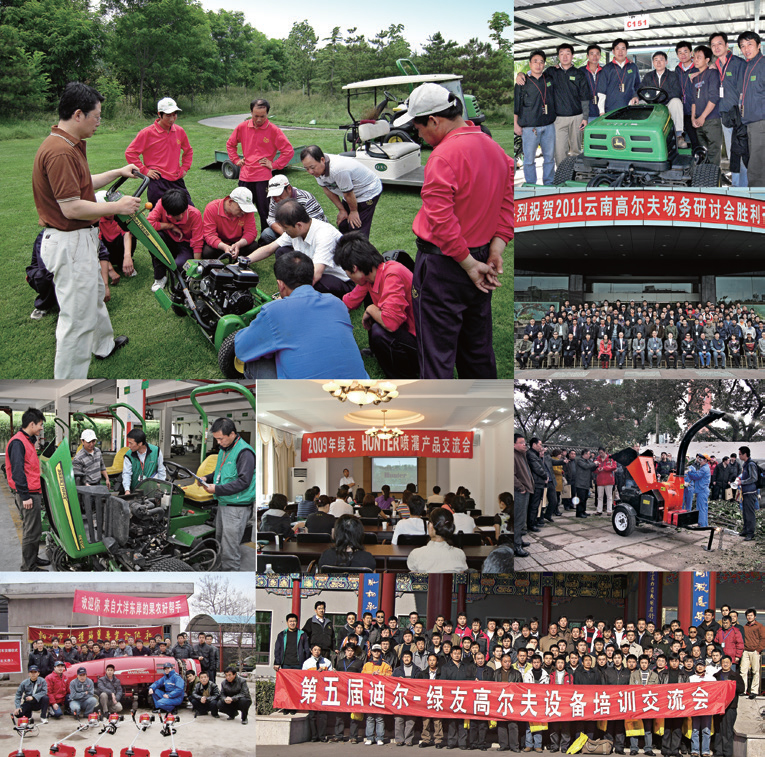 服务网络
SERVICE GRID
绿友集团始终坚持"服务创造价值""有绿友为友,无后顾之忧"的服务理念,秉承"客户利益第一"的原则,以客户为中心,以满足客户需求为目的。建立完善的门店管理规范、高效的服务网络,向客户提供专业化、标准化的服务,促进与客户双赢发展,构建优质服务品牌。经过二十来年的发展,目前在北京、上海、广州等70多座大中城市建立了一百余家子公司和门店,有800多名营销服务人员,200多辆售后服务用车,满足了客户就近服务的需求,解决了跨区域服务保养的难题,极大地提高了绿友集团的售后服务水平。客户可在全国任一绿友集团门店享受到专业、热情、优质的售后服务,实现了服务全覆盖。
Greenman Group adheres to service motto in "Building Value for Customer", "Be Friends with Greenman, Be Free of Worries", and centers Greenman service around Customers on the principle of "Customer Interest Prevails" to match and meet what customers demand. Competent Sales Front Store Rules, High Efficient Service Responding Network, plus Professional and Standardized service care, and all enhancing win-win development with customers, help achieve superior service brand name in the industry.
Over two decades expansion allows Greenman to open and run more than one hundred subsidiaries and outlets in over seventy large and medium sized cities including Beijing, Shanghai and Guangzhou. With service points in close vicinity with customers, commercial and professional contractors are facilitated to roam the country with their fleet of equipment. At customer's preference, uniform and seamless after service are provided professionally, with same enthusiasm and quality standards throughout any Greenman outlets across China.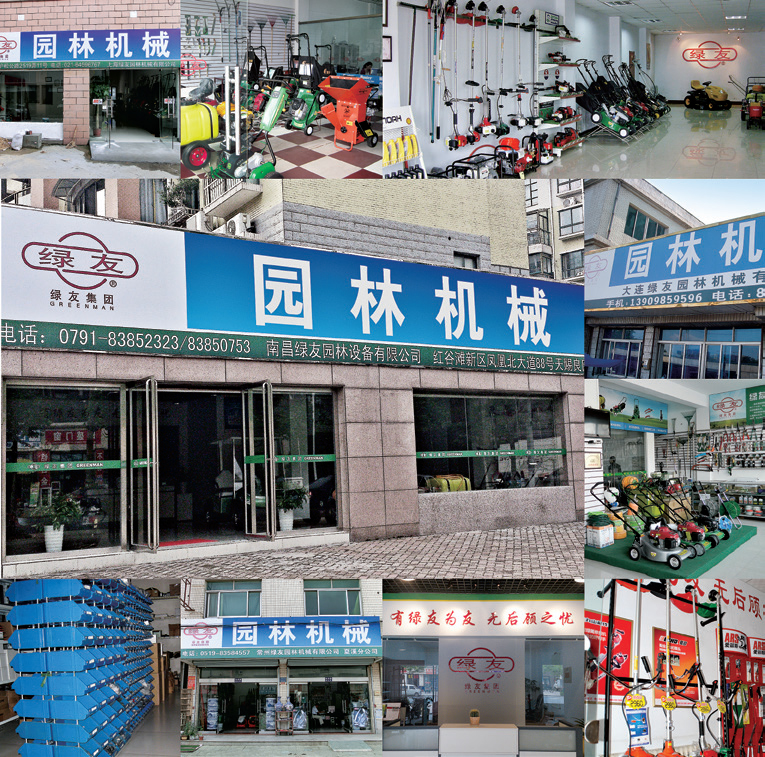 下一篇:绿友荣誉